News | Downloads | About Ultima IV | About U4 Part 2 | Screenshots | Links & Credits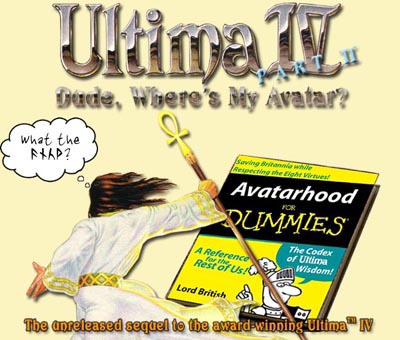 "Any Ultima fan OWES it to himself to download this game and play it. Satire aside, it truly feels like you're playing another official chapter of the Ultima series... I can't do it justice - it is GREAT." - from the lemon64.com forums

"The humour and design of U4P2 were just superb...This is the nearest you'll get to playing another classic Ultima with a load of laughs thrown in along the way." - from a wordpress.com blog

"AWESOME - Once I started, I couldn't put it down. Really well done, really good work." - from the joltcountry.com forums



Ultima IV Part 2: "Dude, Where's My Avatar?"
A parody of the UltimaTM series of games
Developed with Adventure Creation Kit by Chris Hopkins.



News:

February 6, 2021: Sinatar posted a great long-play video on YouTube, which means I can take that off my to-do list now. Instead I packaged up all the files into a version meant for use on Android devices with Magic DosBox. If you've been waiting all these years to be able to run it on mobile, now you can. Instructions are in the readme.txt file inside the zip. You can also download it directly from your Android phone or tablet, and use the device's file manager to unzip/copy as needed. u4part2-android.zip


November 12, 2011: I just stumbled across a fantastic review of U4PART2 by "The CRPG Addict", whether you've already played this game or not it's a great read! There are some spoilers, but it doesn't give away all the jokes and he adds some great humor of his own.

July 22, 2011: My apologies - the link to the Windows download was broken due to a typo that didn't become apparent until I changed hosts. (Old host wasn't case sensitive, new host is.) The link has been fixed.

April 7, 2010: Another excellent complete play-through, with screenshots, has been posted by Pix: so once again, if you don't have the time to play this game through yourself, you can see it through another player's eyes at his "Origin Adventures" Wordpress page.

February 9, 2010: A standalone (single download) version for Windows is now available. The magic system was balanced a little bit and a quick reference card (with map) plus a walkthrough document are now included with the download.

June 17, 2009: Michael Ellis posted a fantastic screenshot longplay on rpgcodex.net with hilarious commentary. Spoiler alert, but if you want to see how the game plays out, check it out!

Downloads:

Windows: Just download UltimaIVpart2.zip, unzip it, and run "ultima.exe".

Macintosh: Install Adventure Creation Kit, then download the Ultima IV Part 2 game files. Copy the "U4PART2" folder from the game ZIP file into the "ACK\GAMES" folder for ACK. To run the game: Run ACK, and then load and run the U4PART2 adventure!

Linux/other: Same as above, but you will need to set up DosBox separately.

Note that ACK and U4PART2 are both freeware and open source!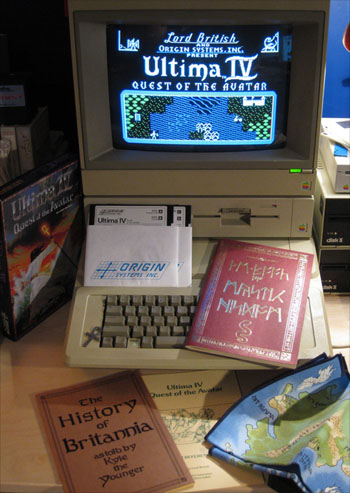 About Ultima IV:

The Ultima series of fantasy role-playing games were developed by Origin Systems and Richard Garriott (AKA Lord British) during the 80s and early 90s. Some of the earlier games helped define the genre of fantasy RPG gaming. The earliest games (the first three in the series) were fairly typical "become strong enough to seek out and kill the villain" games, although genre-defining in the introduction of a very open-ended, free-form top-down game interface.

Ultima IV, however, was unique in that instead of this generic plot, the game's struggle is the player's internal struggle to exemplify a life of virtue and seek wisdom and enlightenment. The game introduced a set of eight virtues, which became core concepts in the rest of the series. Pretty advanced stuff for a game from 1985!

Future installments in the series continued exploring moral themes in this fantasy setting; eventually, the series spawned the Ultima Online massively-multiplayer game.

| | | |
| --- | --- | --- |
| Title screen from the game. | | Game screen during play. |
Ultima IV Part 2 is a parody of the Ultima series. It takes place in the gap of time between Ultima IV and Ultima V. It answers some of the unresolved questions from the series:



How were the dungeons sealed?


Why did Lake Generosity dry up?


How was Blackthorn able to take over?


Why did the Shadowlords really come to Britannia?


How was the Codex raised out of the Abyss?

But why stop there? The game also pokes fun at the entire Ultima series:



What really happened to Mondain, Minax, and Exodus?


Why did the Stranger/Avatar stop going into space?


Where did the Guardian really come from?


Why did Lord British's castle have an entrance to Hythloth?


Why is Humility really one of the eight virtues?


Just how crazy of a set of virtues will Britannians follow?


Who cares? (Okay, it doesn't answer that.)

This game was developed with the Adventure Creation Kit software, a free game engine that is now nearly as old as the games as I'm lampooning (it was first released in '91.) The new version of ACK is updated and optimized to run under DosBox with better support for sound, pictures, etc.


Intro sequence from the game, click to watch. (Includes sound)



| | | |
| --- | --- | --- |
| You will discover new twists on familiar places. | | You can once again bond with the populace. |
| | | |
| --- | --- | --- |
| Old friends will greet you with open arms. | | You will face terrors like you have never seen. |

Links

You can discuss the game at the Jolt Country forums - there is a thread for Ultima IV Part 2 in the forum for Adventure Creation Kit.

Need help remembering which Ultima was which, when, and what they were like? The Ultima: Aiera website has an excellent synopsis of the Ultima series. Also, Ophidian Dragon has a great website describing his playthroughs of all the Ultima games on his "Blogging Ultima" blog.

Credits

Thanks first to Joshua Lawrence for his extensive playtesting, helpful feedback, and ready supply of ideas. Thanks also to Robb Sherwin for providing a forum site (Jolt Country) for discussion of the game and engine.

I'd also like to thank a few strangers for providing websites with information or inspiration:

Dino's Ultima website has links to all kinds of other sites about Ultima -- many of the sites below I discovered through his site. (Thanks also for putting in a plug for this game so quick!)

Hipolito's journal of his Ultima IV playthrough - funny stuff! (If you like that, he's got another one in progress for Fallout 2.)

Xenerkes's site has all of the Ultima VI headshots, plus Ultimatrix, a great Ultima map viewer and other utilities.

For maps, Andrew Schultz has a great Ultima V map website, and Joshua Steele has an excellent Ultima IV map website with NPC dialogues.

Hacki has a great website with Ultima Nitpicks, documenting various inconsistencies between the games. Naturally I tried to explain as many of these as I could in this game: for example, where did the Drylands come from? Well, play and see!